Nusa Penida and the Nusa Lembongan Islands are very popular tourist destinations in Bali with their natural beauty and beaches with a variety of colorful underwater species. Which is an attraction for tourists visiting Bali.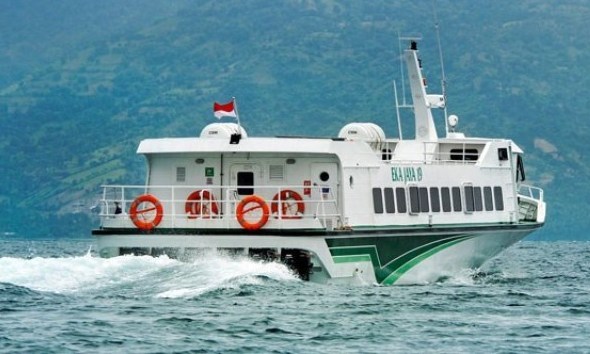 Fast Boat Is The Best Way To Go To Nusa Penida Island
The Fast Boat Transfer Service is the best solution for go to the Nusa Penida and Lembongan Islands from Gili or Lombok. It takes around 2 hours 30 minutes to 3 hours to cross the ocean to reach Nusa Penida and Lembongan Island from the Gili or Lombok. This service is very safe because the boats used are equipped with various safety facilities such as life jackets, life rafts and various other safety equipment. Coupled with additional facilities such as full ac boat, TV, full audio, CCTV, toilets and sundecks.
Special Price Fast Boat To Nusa Penida and Lembongan
| | |
| --- | --- |
| One Way Trip | IDR 500.000 / Person |
| Return Trip | IDR 900.000 / Person |
Fast Boat Schedule  and Check-in Time With Eka Jaya Fast Boat
Boat Departure Gili's/Lombok
To Penida/ Lembongan
Check-in Time
Arrival (Estimation)
8.30 AM
8.00 AM
11.00 AM (Direct)
12.30 PM
11.30 AM
3.30 PM (Via P.Bai)
Boat Departure from Penida/
Lembongan To Gili's/Lombok
Check-in Time
Arrival (Estimation)
10.00 AM
8.00 AM
12.20 PM (Via P.Bai)
Note : For more details will be given when making a reservation, or you can contact our Costomer Service by Whatsapp. CHAT NOW WITH US (+6281337664172)
Additional Information
Fast Boat From Gili Island or Lombok to Nusa Penida and Nusa Lembongan are usually without shuttle services on Gili and Lombok. Because at Gili island no cars for pick-up or drop off and also at Lombok Island fast boat do not provide shuttle services]
FAST BOAT INFORMATION
Eka Jaya Fast Boat Amenities
Eka Jaya Fast Boat Specification
Toilet 
ength 34 meters,width of 5.6 meters, and high 2.15 meters.
Full AC
Eka Jaya Fast Boat made of Aluminum
CCTV
With a capacity of 180 passengers
TV LCD
Maximum Speed of Eka Jaya Fast Boat reaches 35 knots
Audio
Main Engine: 4 X VOLVO D16 750 HP
Life Jacket
Generator: Yanmar 40 KVA
Life Ring
With the Hitachi AC 4 X 6 HP
Complete Safety equipment
Liferaft 4 x 65
GPS technology
The Aluminium Boat
Ship to shore radio
High speed, safe and comfort
KVA Fire extinguisher
Accredited captain and crew
 
Wide space with high quality seating

For question and Reservation don't hesitate to chat with Whatsapp Messenger.

Check Availibility, Price & BOOK NOW !
*** For "Sudden Reservation" or "Last Minute Booking" we usually always have seat availability even though our Online System says Fully Ordered. Please Chat us at at +6281337664172 (Click To Chat on Whatsapp) for availability and booking info.