Gili Island which is one of the popular tourist destinations in the North Lombok area. The natural beauty of the Gili Islands makes these Islands a destination for foreign and local tourists who vacation on the Gili Islands. 
Gili Meno has the feel of a very intimate island which has a smaller population than the island of Gili Trawangan. A quiet island can promote a sense of comfort and is perfect for honeymooners or recuperation. We highly recommend Gili Meno for those of you who like a quiet rural atmosphere in the middle of the forest. To go to Gili Meno there are several ways because Gili Meno is filled with beautiful coral reefs and the beach is a snorkeling point that attracts tourists to snorkel.  Especially the human-shaped statues that form a perfect circle under the sea.
Gili Meno also has a baby turtle hatchery which functions to preserve the existence of sea turtles on the Gili islands. We can find turtles in the waters of Gili Meno and Gili Trawangan or around the 3 Gili beach areas. When doing a snorkeling tour on the 3 Gili islands. You will be taken to the point where sea turtles usually appear so you can witness the beauty and underwater of the Gili islands. The combination of the beauty of coral reefs accompanied by various types of fish and other marine life will add to the atmosphere when snorkeling, especially if we can see turtles.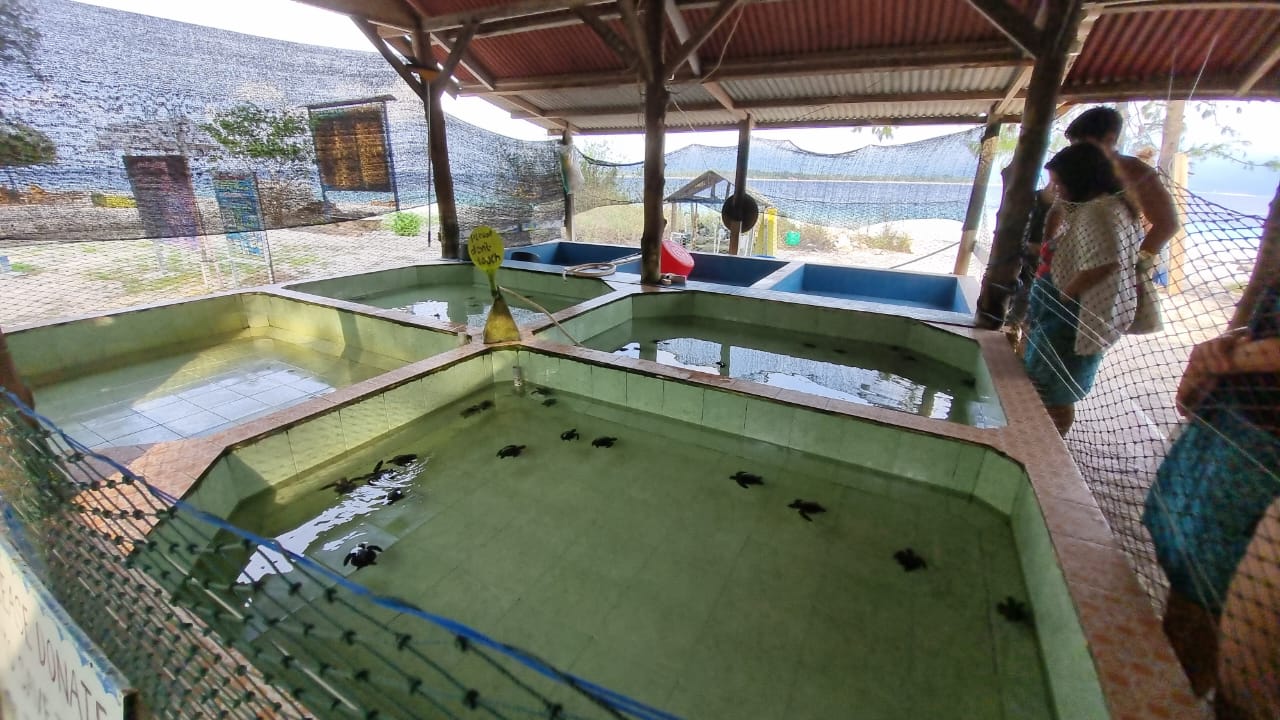 How do you get to Gili Meno?

With the beauty of Gili Meno's sea which must always be maintained and preserved. Of course there are several options that we can use to visit the island of Gili Meno. as follows:
If you are in Bali and want to visit Gili Meno Island, you can cross from Padang Bai Port to Gili Meno, but not many fast boats have routes to Gili Meno. One of the fast boat companies that goes to Gili Meno is Eka Jaya Fast Boat. 
Eka Jaya Fast Boat does have a route to Gili Meno but has limitations where it cannot directly dock at Gili Meno Harbor. The passengers are dropped off at Phonoon and take a local boat from ponton to Gili Meno beach. By using the fast boat service from Padang Bai to Gili Meno it takes about 2 hours and 30 minutes on the sea. And around 5 – 10 minute to arrive at Gili Meno Beach. To find out availability and the latest trips to Gili Meno, please visit our page Fast Boat Padang Bai to Gili Meno Island.
Fast Boat From Bali to Gili Meno
Ready for an adventure? Click the link below to discover everything you need to know about fast boats to Gili Meno and start planning your perfect island getaway today
If you want to visit Gili Trawangan and Gili Air first before visiting Gili Meno, of course you can. From Gili Trawangan or Gili Air you can use a local boat to cross to Gili Meno. There are several price that you will meet which you can adjust to your convenience. First, you can rent a private boat or you can take a public boat at a cheaper price from Gili Air/Gili Trawangan Island to Gili Meno.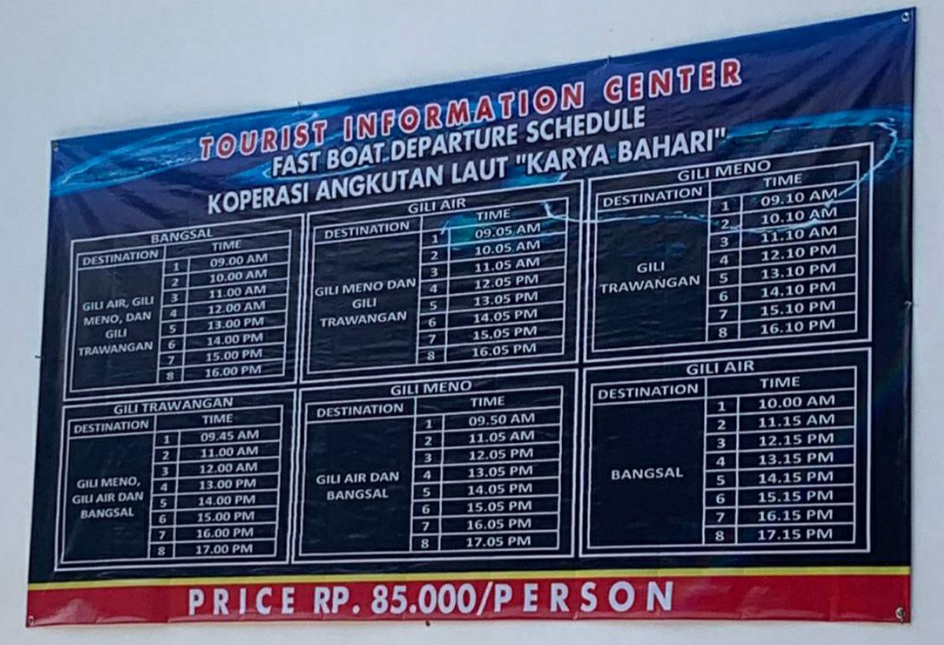 What interesting things can we do on Gili Meno?
The first thing you need to know on Gili Meno is that there are no motorized vehicles or cars. it's typical that on the island of Gili Meno we can walk while enjoying the beauty of nature. You can look further into the forest to find local houses or private villas.
There are 2 transportations
That you can use to get around Gili Meno island by renting a bicycle. If you bring suitcase or backpack or surfboad you can rent a cidomo (horse carriage) to take you from the port to your hotel or around the island.
Snorkeling 3 Gilis
Snorkeling is a mandatory activity that we can do when visiting the Gili islands to be able to explore and enjoy the natural beauty and superior statues under the sea of Gili Meno Island.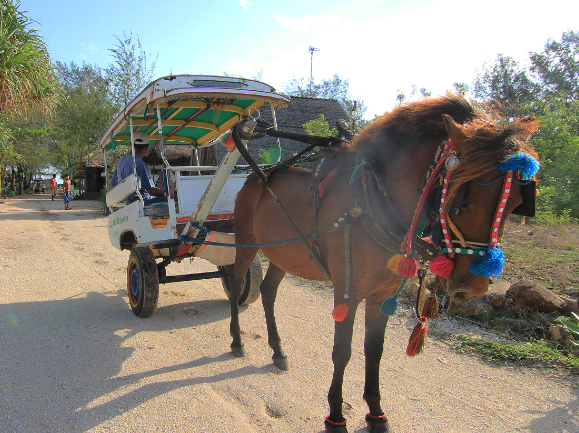 What tourist destinations can we find on Gili Meno?
Turtle conservation
Not far from the Pier we can find a turtle hatchery which on Google Maps can be found under the name "Gili Meno Sea Sanctuary". We can see little turtles that have been preserved until it's time to be released back into the sea.
Air Payau Lake
This lake is a small lake on the island of Gili Meno. Previously, we could see the view of the lake from the land by the lake. Now already has a wooden bridge that stretches out beautifully on Gili Meno Island. Which we can use to cross and enjoy the beauty of the lake while sitting relaxed in several small buildings built every 10 -20 meters from the bridge.
Is there anything important that needs to be brought to the Gili islands?
You must bring cash if you can carry Indonesian Rupiah (IDR), why?. of course because you will need cash on Gili Meno because not all restaurants or tourist activities can accept payments by card or online.
on Gili Meno Island you can find an ATM but it may be constrained by several methods. of withdrawing money or the location of the ATM which is quite far from the hotel location.